Snap! Documentation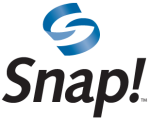 The Snap! Documentation book was written to help you use your Snap! website.
The book also describes the management of your Snap! features which is done on our made company website (for security reasons.)
If you have any question or comment about one of the points discussed here, please, feel free to post a comment on the very page that has the problem. Your participation is what will help us ameliorate this document and Snap! as a whole.
Many questions are also answered in our Frequently Asked Questions pages.